Web tutorials workflows: How scholarship, institutional experiences, and peer institutions' practices shaped one academic library's online learning offerings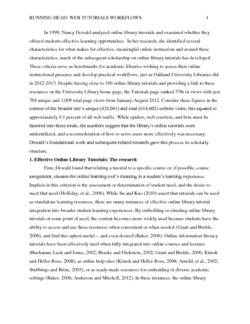 Author
---
Nichols Hess, Amanda

Date
---
2014-03-21
Abstract
---
This article addresses how one academic library sought to better offer its online learning objects to students. Through a careful reading of the scholarship in the area, informal interviews with academic librarians at the institution, and an examination of Michigan's public university libraries' web tutorials structure and offerings, a workflow and set of best practices specific to the University Libraries' goals and needs were developed. These resources have helped this particular academic library to focus more on library users in the design and deployment of online learning objects.
xmlui.dri2xhtml.METS-1.0.item-citation
---
Hess, A. K. N. (2014). Web Tutorials Workflows: How scholarship, institutional experiences, and peer institutions' practices shaped one academic library's online learning offerings. New Library World, 115(3/4), 3-3.
Collections
---