Convenience or content: A study of undergraduate periodical use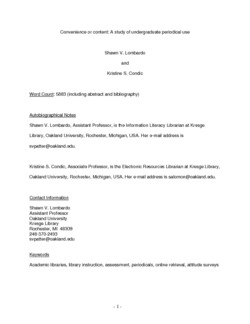 Author
---
Lombardo, Shawn V.
Condic, Kristine S.

Date
---
2001
Abstract
---
Full-text periodical databases have changed how students access research materials. Many librarians fear that students favor the convenience of full-text databases over more valuable information found in print periodical literature. To what extent is this true? A study was undertaken at Oakland University to determine how well students mastered the retrieval process for print and full-text articles, and to gather their opinions on the value of both formats. A pre-/post-test instrument was administered to students before and after instruction to measure their knowledge of the library and its databases. A final test, including questions designed to measure student attitudes about the article retrieval process, was administered upon completion of a term paper. Results indicate that many students valued the convenience of full-text articles over the article's relevance, but they also found the overall research process to be difficult. The research students conducted also impacted their test results. Other findings are discussed.
xmlui.dri2xhtml.METS-1.0.item-citation
---
Lombardo, S. V. and Condic, K. S. (2001). Convenience or content: A study of undergraduate periodical use. RSR: Reference Services Review 29, 327-337.
Collections
---