Developing the Online Learning Environment: The Pros and Cons of Using WebCT for Library Instruction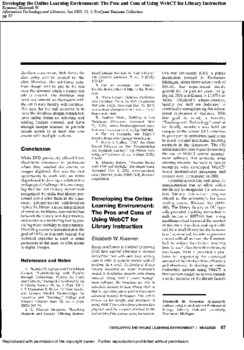 Author
---
Kraemer, Elizabeth W.

Date
---
2003-06
Abstract
---
Rising enrollments at Oakland University (OU) have required librarians to decrease instruction time with each basic writing class in order to preserve contact with all sections. As a result, the faculty at Kresge Library developed an online instruction module to familiarize students with library research. Using WebCT course management software, the librarians are able to introduce students to basic library skills so that in-class time can be used to teach more advanced research techniques. This article focuses on the benefits and drawbacks of using WebCT for such a library instruction program, and the support provided to the instructors of the courses using the module.
xmlui.dri2xhtml.METS-1.0.item-citation
---
Kraemer, Elizabeth W. (2003). Developing the online learning environment: The pros and cons of using WebCT for library instruction. Information Technology and Libraries 22 (2), 87-92.
Collections
---