Minutes of the Meeting of the University Senate, January 12, 1984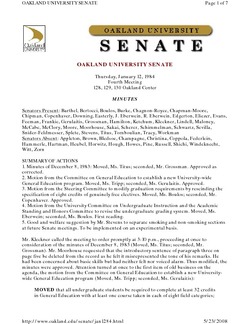 Related items
Showing items related by title, author, creator and subject.
Oakland University. Senate

(

1984-02-09

)

Grades-revision re N, WS, WN, SN U, P, I grades. 2d reading. Research Committee-membership change. 1st reading. Senate-committees-members ineligible to apply for funds from committees on which they serve. 1st reading

Oakland University. Senate

(

1970-04-09

)

Concentrations. 1st reading. Grades-establish grades, A,B,C,N. Grades-S/N (satisfactory/not satisfactory) option. Grades-conditions for waiving 2.0 GPA for graduation. General education-guidelines. Major standing-students ...

Oakland University. Senate

(

1974-10-03

)

Teaching & Learning Committee-membership change. Approved. Grades-WS, WN, N-non numeric grades not used in GPA computation. 1st reading. University Council-model no longer considered a governance option. Info item.