Developing Information Literacy Instruction for Honors Students at Oakland University: An Information Consulting Approach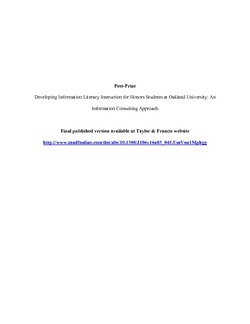 Author
---
Kraemer, Elizabeth W.

Date
---
2007
Abstract
---
Entering the university setting can be daunting for even the brightest of students, given the increased coursework and research expected of them as compared to high school. To support these significant research needs and help Oakland University honors students meet their academic goals, a librarian liaison position was created to work with Honors College students and faculty, with information literacy instruction being the focus of the services the Library offers to the Honors College. This article describes the development of the information literacy instruction program for the Honors College at Oakland University and discusses plans for future growth of the information consulting relationship.
xmlui.dri2xhtml.METS-1.0.item-citation
---
Kraemer, E.W. (2007). Developing information literacy instruction for honors students at Oakland University : An information consulting approach. College & Undergraduate Libraries 14 (3), 63-73.
Collections
---
Related items
Showing items related by title, author, creator and subject.
Switzer, Anne

;

Wynn Perdue, Sherry

(

2011

)

The vast breadth of information sources available in the field of education and the dearth of institutional resources for native graduate writers have left many graduate students overwhelmed, struggling to conduct an ...

Oakland University. Senate

(

2019-04-18

)

A. Informational Items - Program modifications: PhD in Reading Education; MS in Information Systems; MA in Biology; BS in Actuarial Science; International Management Minor; Entrepreneurship Minor; Business Analytics Minor; ...

Oakland University. Senate

(

2015-03-19

)

A. Informational Items: 1. Program modification to the Doctor of Philosophy in Education: Counseling Program approved by Graduate Council reducing credits and changing name to Doctor of Philosophy in Education: Counseling; ...