Teaching Students How to Research the Past: Historians and Librarians in the Digital Age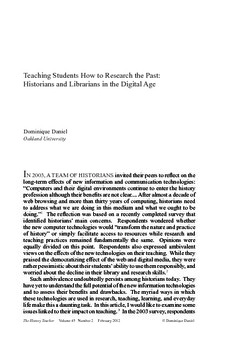 Abstract
---
The article discusses innovations in information and communication technologies and examines their impact on the teaching of history, as well as student learning. Particular focus is given to ways in which the practices of historians, librarians, and history teachers are influenced by technology. Studies regarding the opinions of students, faculty members, and librarians regarding historical research training are highlighted and research processes such as metaliteracy and bibliographic instruction are explored. The article also notes collaborative efforts between academic librarians and college history teachers.
xmlui.dri2xhtml.METS-1.0.item-citation
---
"Teaching Students How to Research the Past: Historians and Librarians in the Digital Age." The History Teacher 45, no. 2 (Feb. 2012): 261-282.
Collections
---